ARCTIC NORWAY SKI TOURING 2020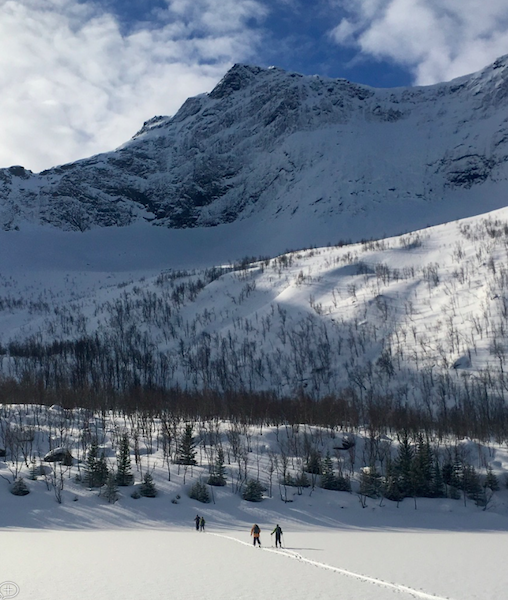 April 26 - May 4, 2020 Senja Island
This year we are are returning to one of Norway's gems, Senja Island.
Secreted away in the far north of Norway, Senja Island is a ski touring paradise. Fingers of mountains reach out into the sea creating some of the most stunning landscapes you will ever see. Small fishing villages dot the remote peninsulas where if you are lucky you can rent a house from the villagers. And we are lucky, for 2020 we have a beautiful 4 bedroom house to use as our private lodge. You can ski out the back door or we can drive to one of hundreds of locations that surround us. Granite cliffs jut out from the sea in every direction masking the easier routes that lay hidden amongst the peaks.

The number of people ski touring in Norway is exploding, and for good reason. First of all it is drop-dead gorgeous. Beautiful mountains rising out of the sea, interlaced with deep-water fjords is just the beginning. Being this far north means that the snow is plentiful right to the water's edge. Putting your skis on with the waves gently lapping on the shore takes some getting used to. The latitude also means that while the springtime sun is out nearly 24 hours, the snow remains unaffected. Powder snow is the norm, not the exception. Top this off with Norway's amazing infrastructure - there is an incredible network of roads, ferries, tunnels and bridges. After a big day skiing you can knock the snow off your boots at the door, have a high pressure shower as hot as you want, sit back on the couch in your underwear and watch the fishing boats go by. We don't usually do the underwear part but you get my drift….it is pretty damn nice.
We do our own cooking, each house is equipped with a modern, well appointed kitchen and all food preferences can be easily accommodated. All accommodation has Wi-Fi and cell phone reception.
Itinerary
Tuesday April 26 - Arrive in Tromso. Hotel

Wednesday April 27 - Catch early morning water ferry to Senja Island (1hr) . Rental van will be waiting for us. Full day skiing before we arrive at our accommodation in the village of Medfjordvaer.

Thursday April 28 - Ski Day. There are a huge number of mountains and ski runs surrounding Medfjordvaer. We can ski right out the door or drive to one of the hundreds of locations that are within a very short drive.

Friday April 29- Ski Day

Saturday April 30 - Ski Day

Sunday May 1 - Ski Day

Monday May 2 - Ski Day

Tuesday May 3 - Ski Day. Catch evening water ferry to Tromso. Final dinner and goodbyes. Hotel in Tromso

Wednesday May 4 - Fly home